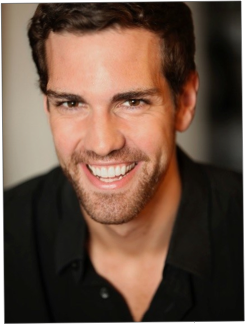 The other night at the Ghost Light Vocal Jam, I pulled aside the kind-hearted headliner, Tim Hughes, for a quick chat. I wanted to learn a little more about his journey into the world of musical theater, so I peppered him with questions right after he took the stage.
Hughes grew up in Wisconsin, doing both athletics and theatre. He enjoyed both and wasn't sure what path he was going to take. His passion was always to do musical theatre. When he was accepted at NYU, it was decided. "I've always loved musical theater, and I'm so thankful that it became my path," he said. It's a good thing too, because without it, he said he would be both, "sad and depressed… Music is incredibly powerful and moving. It's everything!"
Growing up, his biggest musical theater influence was the nine time Tony Award winning Tommy Tune. "He's a super tall actor, singer, dancer, director, and choreographer who has had an incredible career. He's paved the way for people to be the eccentric and extreme types. He's made it totally common and popular," the six-foot, six-inch bari-tenor explained. As Hughes explained this, I smiled at the fact that he was only days away from the opening of Musical Theatre West's opening of Big Fish, in which he played role of Karl, the giant. At six-foot, six-inches, I pondered the question of him even needing to use stilts to play that role.
In 2012, Hughes hit Broadway in Chaplin, The Musical. Of course I was curious what his first night performing on the big stage was like. "Oh my gosh, it was a dream come true. It was so emotional. I cried the whole time. It was unbelievable. It's always been my ultimate goal, and to have achieved it… was unbelievable. I will never forget it." When asked what one moment in his career he is most proud of, he explained, "Working on Broadway was great, but when I took my first step into the big show-carrying role as Willard in a production of Footloose at the MainStage, I was very proud of the work I had put into the role. And the response from the audience was incredible to receive back. I was particularly proud of that show."
As Hughes continues his work on and off Broadway, he talked about a few life and career lessons he has learned. He stressed the importance of collaboration, and how much is helps when working with others. Hughes also highlighted, "It's always important to set a good example—at the end of the day, we should always remember that we GET to do theatre… never forget the joy and the fun, even though we've made it a career, especially on a level like Broadway. It's important to remember that we are privileged to be able to do this as actors and performers and there should always be a grain of that humility in everything that we do." He also emphasized the importance musical theater offers the art world, and went on to say, "I think musical theatre is one of those amazing mediums for having a shared combination of music, visual art, acting, and dancing. It brings it all together, and I think it's important to continue to support and to continue to share that magic with people."
Of course I had to end our conversation asking Hughes two very important questions. The first, "What role have you always wanted to play?" In which he replied, "Oh my gosh… just one? Ooh, okay… the Emcee from Cabaret." And second, "Would you be willing to sing a few bars from your favorite song in Big Fish for the blog?" His answer, "Oh gosh… what's my favorite? Okay, here goes.
[leadplayer_vid id="54AC20C14B179″]
Thank you Tim Hughes for taking the time to talk with me, and for making the GLVJ such an amazing, wonderful evening!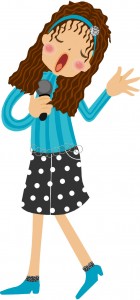 -A kid who likes to shimmer, shine, sparkle and glimmer!
Jes DeGroot