How to Create Gifs: A Step-by-Step Guide
for All Social Media Platforms
You know that great marketing relies on great content. While great content should be value-driven, it's also important to entertain and inspire! You should tap into the emotional journey of our ideal clients. For some, that feels overwhelming and time-consuming… and that's when they discover the magic that happens when they create gifs.
A GIF is a great way to tap into the emotions of our communities at a rapid pace. They are fun, quick, and to the point. I recently just had one GIF reached one million views organically! In total, we have more than 16 million views from the 133 GIFs we uploaded on GIPHY. In this article, we'll talk about how to create GIFs to boost your brand and get found by your target audience. We also have a video training for you at the end of this article complete with a step-by-step instructions.
Catch a short recap of the easy ways you can create searchable GIFs here:
What is a GIF? 
The word GIF is a registered trademark that stands for Graphic Interchange Format. It was developed in the late 1980s and early 1990s by CompuServe's subsidiary, The Graphics Corporation of America (GCA), to provide a color image format for online communication on bulletin board systems. A gif, pronounced "gif" or "jif" is an image, usually of a moving object such as a person or animal. And this is a great example of a GIF from one of my videos:
You are going to love GIFs so much after reading this article!
How to Use GIFs to Promote Your Business
If you are building a brand at all connected to who you are as a human being, getting more visibility of your face is good for your business. GIFs are a major opportunity because they instill this emotion and allow your community to get involved. 
GIFs can be used in many ways:
Use it on

social media

to "stop the scroll." 

GIFs can be included in emails, text messages, and messages to deepen the connection and add in a little fun.

Add tutorials on a website through GIFs.

Use GIFs embedded in my slides as an

alternative to a video

to drive the education forward. They take up less space in your slides, and they play in a loop. 
What is the Best Tool to Make GIFs? 
Okay, so now you're sold. You may ask, "How do I make my own GIF? How can I make a GIF for free?" I'm so glad you asked. There are tons of free tools that you can use online to create GIFs for free. But my favorite is CANVA GIF Maker. I used to like PicMonkey, but Canva is just so much better and with tons of features. Regardless of the tool you use, the process is pretty much the same: You upload your media, add your design, and the tool will convert it into a GIF file. 
Other tools that you can try: 
How to Convert Video to GIF
My favorite way to create a GIF from a video is on a Mac computer with an app called GIPHY Capture. If you don't have a Mac, you can also create a GIF with Chrome Capture. But I will talk you through how to do it on GIPHY Capture since it's already connected to GIPHY, which is handy. It's an app that you can install through the App Store. 
To create a GIF, you open the app and adjust the size of the green capture screen to the size of the video playing on your computer. 

Scroll through the video to wait for a moment where we see me make a funny face. Once you've found a moment you want to capture, just hit the Record button, and it's recording what is playing on the screen.

Once you're done recording the GIF, a new window will pop up that will show you the GIF that you just created.
You can customize the other settings of your GIF, including: 
Pixel Size

Resolution Size

Frame Rate 

Adding captions 

Speed 
Watch the video training below , so you can follow along with the instructions: 

Once you're done editing the GIF, you can log into your GIPHY account to set your search terms, website, hashtags, etc. You can also upload the GIF manually to the GIPHY website after it's been created in Capture. You want to make sure you optimize it, so people know where it's coming from when they see it. You'll add the source URL and the strategic tags that will be used as search terms.
How to Get Your GIFs Show Up in Search 
Okay, so now that you have your GIFs from your video, it's time to make sure they actually show up in search. Giphy's search engine is the only search engine for GIFs on Instagram. You only need a branded account if you want your GIFs to show up via search on GIPHY. But if you're going to use stickers on Instagram, you have to have a branded account.
You can also optimize the account so that people can find you and your website. My bio and website show up on my GIF account, as do my Facebook and Instagram accounts. If people like these GIFs on GIPHY, they can learn more about me through my account. 
Here's how my account looks like on Giphy: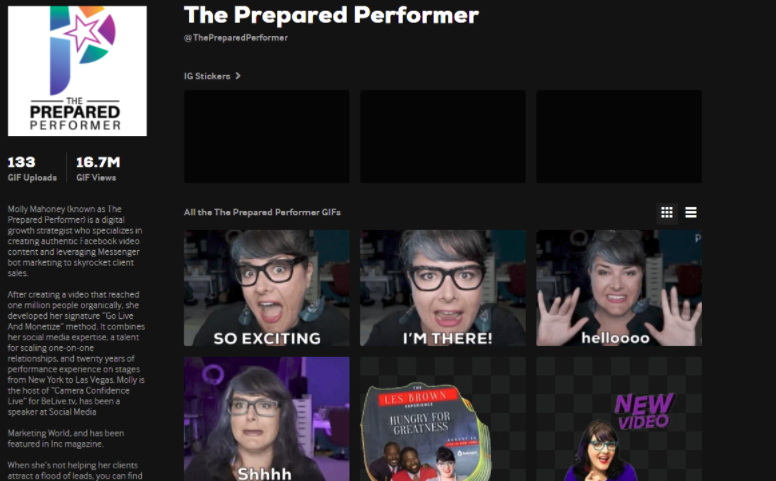 The great thing about Giphy is if you go into the dashboard, you can see all of our numbers. We didn't create our account until May 2020, just as an idea of how far we've come so quickly. Around December 2020, we had this GIF that was shared over 70,000 times on Tenor. You are doubling your opportunities when you use both GIPHY and Tenor. 
Here are ways to make your GIFs more searchable:
Choose GIFs based on emotions and everyday conversations. 
The terms used on the GIFs we create are normal terms that people use in everyday conversation or when searching for GIFs. They are not the same search terms you would use on Google or YouTube; they are more conversational, almost like an emoji. Our social media manager Kendra scroll through my videos and find moments where there is some sort of movement happening that she can use to capture an emotion.
Start to pay attention to what is trending and create GIFs based on that.
Around February 2021, we had this huge spike. It went up and down for a while. We then had another giant spike recently. We had this first huge spike because we went back and loaded old GIFs into the system. The more recent second spike was when this latest viral GIF of ours, saying, "I love this so much" took off. You get such a great viral reach when GIPHY realizes people are sharing this GIF, so they will place your GIF in the Trending GIFs section of their homepage, which is like the Explore page on Instagram. Because there is not a way to ensure GIFs end up on that page, the one thing you want to do is test things out. You can start to pay attention to what is trending and create GIFs based on that.
Create GIFs for events and make them searchable with the event hashtag.
Shoutout to my friend Stephanie Liu who taught me this last trick. What she would do is do GIFs at the event and make them searchable with the event hashtag. People would then search for the event and find GIFs of themselves, which is so cool. 
Additional Resources
BeLive

(sponsor)

Use code MOLLY for 30% off!