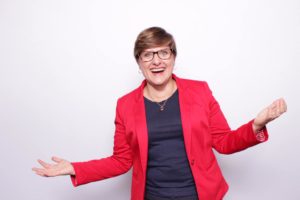 Groups are all the rage these days! But, it can seem super duper overwhelming when trying to grow and manage a community. It is so important to create an engaged community with Facebook Groups and I have the perfect person to help!
This week, I'm bringing on a crazy amazing guest, Geriann Hanley Wiesbrook of Hey G Consulting by Geriann Hanley Wiesbrook.  She was recently named as one of 115 community leaders Facebook chose for their Community Leadership Program, recognizing her as an exceptional community leader.
Um… that's right FACEBOOK CHOSE HER AS A TOP COMMUNITY LEADER.
Only a handful of people in the US were chosen, we are freaking out about what a big deal this is!
She's going to share the 5 Ingredients she used to build the Military Mama Network, 100 other Facebook groups and 4 Facebook business pages.
Geriann Wiesbrook believes we all have the power to change the world. Our world.
This one time accountant has now grown Military Mama Network's Facebook presence to 20,000! It is in every state as well as 40 countries.
She's been celebrated by 10 separate Facebook teams.
You can do this too!! Before she stopped calculating the statistical likelihood of her recognition it was 1:5 Octillion (that's 27 0's and 9 commas ONE BILLION BILLION BILLION) 
😉
All of this success is definitely not bad for an introverted shy kid who hid in corners at parties (as recently as last week LOL)
Geriann has successfully launched a 501 (c) 3 corporation, leads a leadership team of hundreds on a daily basis while juggling a marriage, helping raise her grandsons, and a LOT of travel. Sometimes she even gets to read a book!
The Show Notes will be available soon! Just be sure to comment in the live training.
Holy smokes – so awesome!