Hi all!
I know I don't usually post on Saturdays, but I've had several people ask me about my new lighting set up, so I wanted to share some quick info. I'm also going to try to periscope about it later today. (I'm aiming for 11:45 PST). @thepreparedperformer
I have been struggling with lighting in this house because we have so many windows and I get crazy shadows.
The awesome Debbie Whitlock, business coach for women, told me about lights like these and I'm obsessed! They are SO LIGHT AND SO EASY TO SET UP! It comes with 3 tripods, 3 umbrellas, and 3 lights. All for under $50!
Here's the link I used to purchase it right from amazon. Awesome Lights (It's an affiliate link so I get a little commission for recommending it, at no cost to you. I only recommend things I love!)
Here's the lights in action.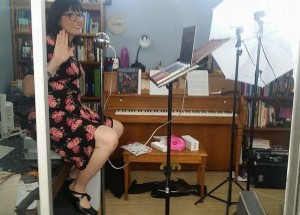 If you are looking for a cell phone light that you can throw in your purse – I just discovered this and it's amazing!!!