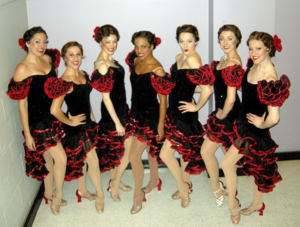 I know, I know, I promised this post to you months ago. Truth is, I had it ready, and completely forgot to post it. I am SOOO sorry to those of you were looking forward to reading it. As a reminder, this interview was a surprise to Molly. I spent time grilling her at the Atomic Ranch and it was a lot of fun getting to know a little more about her history and life.
Continuing our time together…
What is your most embarrassing stage moment?
There are actually two, and both occurred at the Fireside Theatre in Wisconsin. The first happened in Evita, "I fell off the stage and landed in a man's lap. It was in the opening number, and everyone was singing and slowly walking around with candles, and I went to step down, and my heel caught on the edge of the stage—straight down I went. I think I gave the guy a heart attack, and it was way too abrupt to seem apart of the show. I've actually fallen off the stage a couple of times, but that was the worst one. Every other time I've landed on my feet." Her second most embarrassing moment was when she knocked a window box off of a wall. "It was during a really sweet Christmas song and the theatre was super dark. I hit it with my shoulder, and just laughed it off, but then the entire box completely fell over and shattered in the isle. No one was hurt, luckily, but that one was almost as bad as the Evita moment."
How do you deal with an off-night?
As performers, we all have those off-nights. And those joyless, energy-draining days can really put an actor down in the dumps. But how should we deal them? What do you do after a bad performance once we leave the theatre and hit the road?
Molly started in with, "As actors, we need to realize what it was that happened to make the performance seem off—" Interrupting her and stopping her mid- sentence I emphasized the part of my of the question I really wanted to know, "What do YOU actually do?" She laughed uproariously, muttering something about a jack and coke. She giggled, paused for a moment in thought and then said, "I'm trying to think of the last time I had one of those moments. Oh! It was at a Ghost Light Vocal Jam. I did a duet with a friend and some lyrics went awry. I laughed it off and did my signature jump-splits move in the moment. That's what I do to get out of awkward situations."
Reflecting on another night when Molly did the show Crazy For You, she recalled, "…it happened in a part of the show where I popped my head out of a window, and sang a high note just before the orchestra came in. But on this particular night, I wasn't on pitch. After the show, someone made a joke about my slip-up and I got super defensive. I never had made a mistake like that before on that song. I was really bummed about it and I just beat myself up, which is stupid. After that I tried to figure out what I did and what I could do to fix it." She continued, "At the time when it happened, I was saying, "Yes!" to everything. On the day of that show, I did back-to-back show rehearsals in two different cities located six hours apart. It was exhausting! My voice was obviously tired. It was really stupid, saying yes to everything. But I guess that hasn't changed much." She also added that to help keep her mind off of theatre frustrations, she tries to do things that don't have anything to do with it, "like spinning yarn, or something fun so I don't go crazy."
What type of acting do you feel your best at?
"I've been thinking about that a lot lately. I think I'm better at being funny or goofy when I'm just being myself, but when I'm playing a character that's supposed to be funny or goofy, I'm not always as good at it, which is weird. I like being intense—whether funny or sweet.
Is there a role you wish you could go back and redo?
Molly cringed when remembering a performance from years ago while she was living on a cruise ship. She filled in to sing the song "Higher," by Gloria Estefan for a girl who was ill. "It was a hot mess. I had a giant thing of feathers on my head, a crop top, this sparkly bra, and booty shorts on. I was supposed to be doing all this choreography while singing, but I was nearly screaming the whole thing. I can sing it with no problem now, but back then it was just… a hot mess."
What is your biggest pet peeve?
"My biggest pet peeve has to be when people are goofing around and not seriously paying attention to the instructions they're being given by the director. One of my dance partners on the Chitty tour was trying to distract all the performers around him when we were supposed to be singing and… it was frustrating," Molly explained.
What show (that you performed in) was your favorite?
"Crazy for You. It had fun choreography and the music is awesome. I also really, really loved doing 42nd Street. It's just the happiest show in the world, and so it just made me really happy."
What is your all-time favorite show?
When I asked Molly what her favorite show was, and she simply could not decide. "I have a LOT. I love She Loves Me, and I really love In the Heights. I've seen it twice already at The Chance, and I might go a third time because I love it so much!"
And what is your least favorite show?
Of course I wanted to know what her least favorite show was, but after she pondered for a long moment she quietly said under her breath, "What shows do I not love…? Hmm, if there is one, I can't remember it. I love them all."
Who is your favorite Broadway actress? Actor?
Sutton Foster, winner of two Tony Awards, is of course Molly's favorite Broadway actress. Did you know that Molly not only took a class alongside Foster, but has also shared a cab with her as well? How cool is that!
As for her favorite Broadway actor, Molly says it would have to be Norbert Leo-Butz, who like Foster, is also a two-time Tony Award winner. "He sang "Don't Break the Rules" from Catch Me if You Can on the Tony's. It. Was. Amazing!" She said enthusiastically, "I could do nothing but listen to his voice all day long."
What is the stupidest thing you agreed to do?
"I think saying yes to too many things gets me into trouble. I do it a lot, and I need to learn how to stop!"
If you hadn't become a performer/teacher, what might you have done?
Interestingly, if Molly hadn't been a performer, she thinks she could have been a regular teacher, a lawyer, or surprisingly a private eye. She explained to me that a family member does P.I. work, and thinks the thrill of the stakeout would be an interesting job.
Thank you, Molly!!
Molly, I'd like to thank you for giving us all a peek inside your life. It's not easy to tell the world about ups and downs from the past, but your journey gives us all so much encouragement and insight. Thanks sooo much for letting me grill you on the spot. You're always so easy going and so easy to talk to. Learning about your career and the difficult bridges you crossed to make it there are always both very informative and—to say it plainly, very cool. Love you!!