2 Hour Newsies Masterclass with Nico DeJesus who plays Romeo on the National Tour.
We are so excited about this upcoming Newsies Masterclass! Nico will be teaching choreography in the style of the show and also offering an unbelievable 30 min Q and A. Look at this bio ya'll, you don't want to miss the chance to pick his brain!!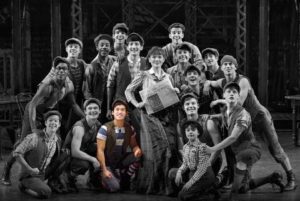 Join us!
Molly
Where: The Music Room School of Performing Arts, 327 W. Collins, Orange
When May 30th 10am – 12noon
What: Awesome Newsies Inspired Masterclass
Who: Nico DeJesus (who is playing Romeo in the National Tour of Newsies)
Tickets: $40/$45 www.ThePreparedPerformer.com/nicotix
Nico DeJesus is a professional singer, dancer, and actor that can currently be seen touring North America with the National Broadway Tour of Disney's "Newsies" playing the role of Romeo. Nico is a graduate of UCLA with a degree in World arts and Cultures with a concentration in Dance. While living in Los Angeles, Nico danced on Disney Channel's "Shake it Up" and "That's so Raven." He can also be seen on MTV's "Awkward" where he played the role of Henry. Nico was a featured performer on Jay-Z's "H to the Izzo" music video where he can be seen rapping along side Jay-Z. He also danced on numerous commercials for Barbie, Warner Bros. Kids, and ABC Kids. Nico has taken his talents internationally as he performed in over 20 cities across Europe in Spain, Italy, and Turkey with
FELD Entertainment's "Mickey's Rockin' Road Show." He has performed onstage at Sea World San Diego dancing in their "Rockin' Riptide show," where he performed alongside world-class gymnasts and percussionists. He is also a part of the Nationwide campaign "Get Up and Go" which is endorsed by Michelle Obama. Nico has trained under the tutelage of many well known choreographers such as Christopher Gattelli, Rosero McCoy, Eddie Garcia, Travis Payne, and Cris Judd to name a few.
Look for Nico in a city near you as he continues to tour with "Newsies" through October 2016.