Ai-ified Organic and Ai Social Selling Tips
Get in on the latest AI Updates when you sign up for the AI-Times: www.molly.live/aitimes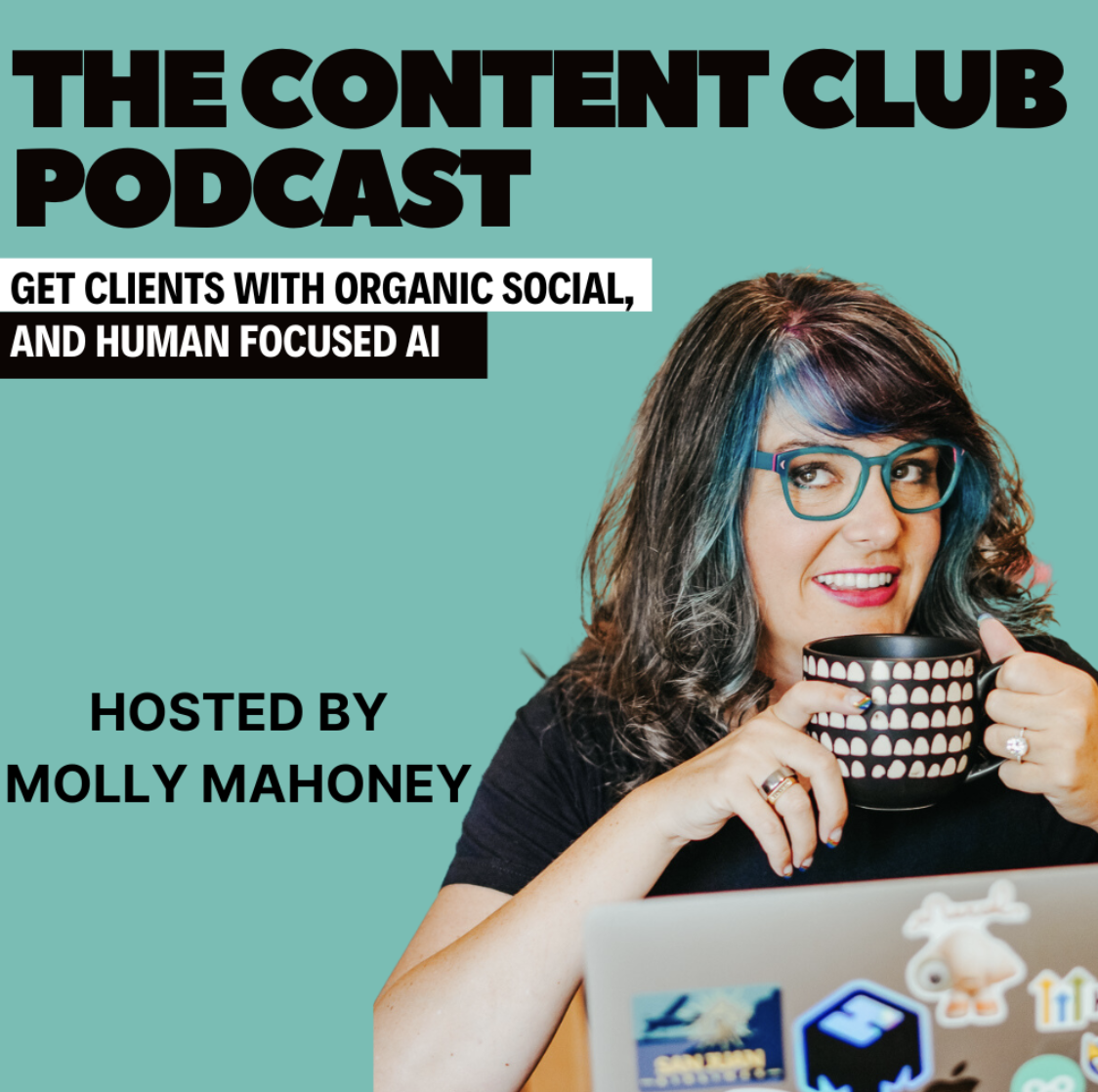 Ai-ified Organic and Ai Social Selling Tips
We all know content creation is a great way to bring in leads and sales – but it also takes time! AND… whether you are using Organic Social or Ads… content only works if it's strategically leading to a conversion.
In the Content Club Podcast we'll bring you bit size tips that will help you to use Organic Social and Human Focused AI. You see that it's possible to have the Confidence to create juicy Content that is set to bring in Conversations that lead to Conversions!
And… because we know creating content can take waaaay to much time – we've made these super bite sized episodes all 5 min or less!
AND… As an extra incentive to implement these tips, they are all powered by human beings who love Generative AI. Hosted by Molly Mahoney's AI Avatar! LOL
Yep! That's right… this whole podcast is hosted by an AI Version of Molly!
AI Has leveled the playing field in many ways… and it's also filled the internet with a lot of boring noise.
In this podcast you'll see why Your Weird + AI Magic = Content That Converts.
We look forward to blowing you mind and helping you see how easy it can be to bring in leads and sales when you have the proper systems in place.
Get 2 Free Weeks in our Ai Content Club membership:
https://www.molly.live/contentclub2weeks

THE HUMAN BEHIND YOUR AI HOST
Molly Mahoney (known as The Prepared Performer) is a Social Selling Innovator who specializes in creating authentic video content and leveraging organic social, AI, and chat automation marketing to skyrocket client sales.
After creating a video that reached one million people organically, she developed her signature "Go Live And Monetize" method. It combines her social media expertise, talent for scaling one-on-one relationships, and twenty years of performance experience on stages from New York to Las Vegas. Combining her social media expertise, and twenty years of performance experience on stages from New York to Las Vegas, her most recent viral video hit a reach of 39 million! Molly has been featured by Be.live, ManyChat, Social Media Marketing World, Traffic & Conversion Summit, Perry Belcher, Rich Schefren's Steal our Winners, Inc magazine, Forbes, Entrepreneur and more.
Her Children's book Finding My Awesome allows kiddos of all ages to celebrate their unique sense of awesome and live a life of confidence and joy.
When she's not helping her clients attract a flood of leads, you can find her singing jazz with her bass-playing husband or teaching her kids #stand4joy from their home in California.